Conference: SASS 2022 in Puerto Rico is back!
Published 12 November 2021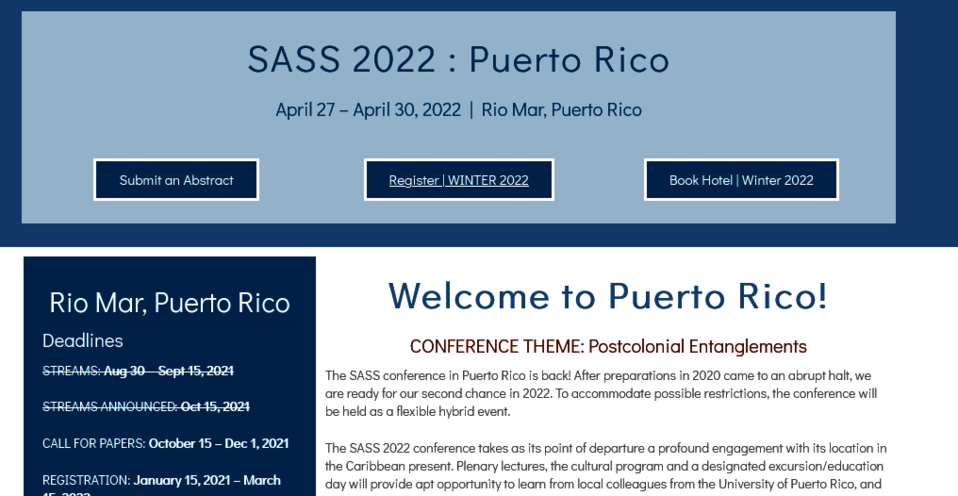 The SASS conference in Puerto Rico is back! After preparations in 2020 came to an abrupt halt, we are ready for our second chance in 2022, between April 27 and April 30. To accommodate possible restrictions, the conference will be held as a flexible hybrid event. Deadline for call for papers is Dec 1, 2021.
The SASS 2022 conference takes as its point of departure a profound engagement with its location in the Caribbean present. Plenary lectures, the cultural program and a designated excursion/education day will provide apt opportunity to learn from local colleagues from the University of Puerto Rico, and from artists, writers, filmmakers and community activists from Puerto Rico, the Virgin Islands, the United States and Scandinavia.
Since the beginning of European transatlantic expansion, the Caribbean has been a crossroads of encounters between Europe, Africa, and the Americas. It is still marked in many ways by the legacies of colonization, imperialism, slavery, and the genocide of its Indigenous populations. Puerto Rico is characterized by the legacy of Spanish colonialism, its status as dependency of the United States, and its Indigenous and African heritage. Both former Dano-Norwegian (The US Virgin Islands; an unincorporated United States territory) and Swedish (St. Barthélemy; an overseas collectivity of France) colonies are located in the immediate vicinity of Puerto Rico. The 2022 conference is dedicated to the exploration of historical and present ties, movements and encounters, and their representation in the arts, media, public discourse, history and politics.
Also, five years after the 2017 centennial commemoration of the transfer of the Danish West Indies to the United States, the SASS 2022 conference will be an opportunity to reflect if there is a noticeable shift in the understanding of the Scandinavian countries as part of coloniality, past and present.
Come and learn about Puerto Rican perspectives on medieval Iceland, Virgin Islands freedom fighters, and Danish colonial architecture and furniture!